Gastroenterology – Taking a look inside your Digestive System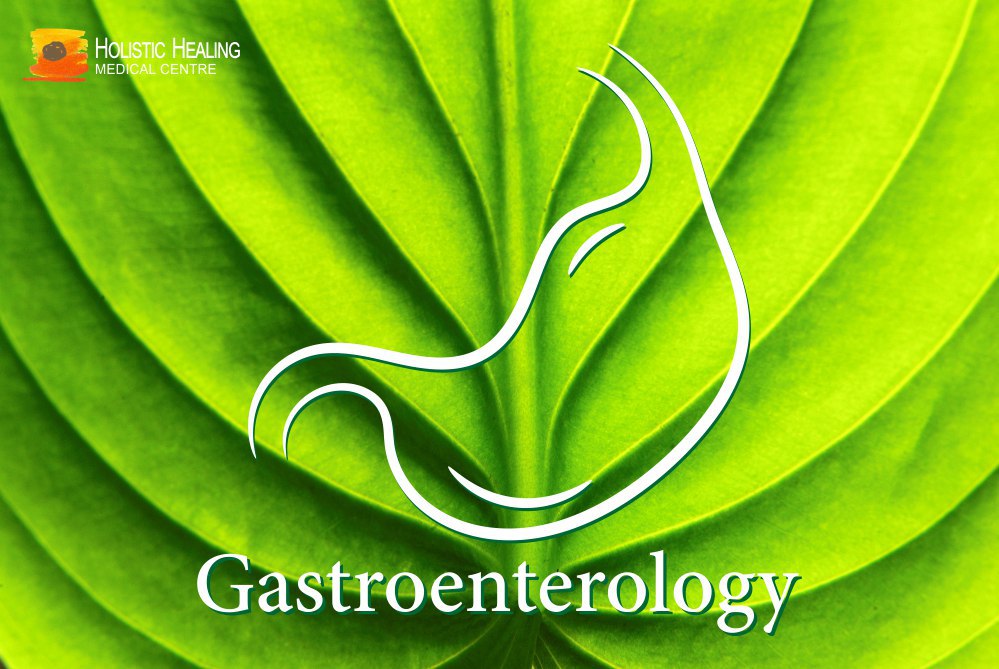 ---
Our digestive system plays an essential role in our immune system and overall health & wellbeing of our body. Often times our digestive system is the root cause to chronic illnesses, fibromyalgia or other neurodegenerative diseases. Digestive issues can be treated completely reversed and allow for a complete elimination of symptoms that impact your overall wellbeing. Holistic Healing Medical Centre offers a vast variety of treatment options that address the underlying issues of the digestive system – including the stomach, intestines, liver and gallbladder.  Our Holistic approach helps you to prevent these countless gastroenterological diseases and the symptoms that come with it as well as support you to avoid comprehensive surgical and medicinal remedies that bring forth various side effects.
What is Gastroenterology?
Gastroenterology refers to the branch of medicine that deals with the digestive system and its related disorders. The dis-eases related to the digestive tract are usually diagnosed and treated by gastroenterologists who investigate, treat and work towards the prevention of all gastrointestinal (intestines and stomach dis-eases) and hepatological (gallbladder, liver, and pancreas) dis-eases.  Some of the most commonly occurring gastrointestinal dis-eases include:
Short Bowel Syndrome
Gastrointestinal Bleeding
Gastrointestinal Cancer
Diverticulitis
Anaemia
Inflammatory Bowel Disease,
Gastroenteritis
Ulcerative Colitis
Hepatitis
Jaundice
Liver Disorders
Gastroenterology at Holistic Healing Medical Centre
Often times Doctors aren't able to detect the underlying cause for gastrointestinal diseases and the symptoms that are directly linked to it. Medication and surgery is prescribed and patients end up feeling worse than before, dependent on tablets, with little control over what is happening inside. This approach may eradicate symptoms and instant pain, however they are just fixing the surface and are completely neglecting the underlying cause.
Holistic Healing Medical Centre offers an extensive Holistic Health treatment plan that allows you to not only eradicate your existing symptoms, but also allow you to prevent them for longevity and a healthy wellbeing. Our Doctors work together in addressing the gastroenterological issues with a Holistic approach presenting healing treatments that rely heavily on natural remedies, homeopathy, Ayurveda, Chinese medicine, Acupuncture and a vast amount of other powerful healing methodologies, with the objective to restore the overall balance and natural rhythm of the body. Ultimately the body learns to heal itself.
Diagnosis
At the Holistic Healing Medical Centre we can identify the root cause of gastrointestinal bleeding, diagnose Crohn's disease, Digestive cancer, Celiac Disease and Polyps. With our Holistic approach we are able to support you in relieving the various symptoms and in many cases curing them completely. Visit our Centre for an extensive screening, if you have any of the following symptoms:
Abdominal pain
Inflammation
Bloating
Heartburn
Changes in bowel habits
Difficulty swallowing
Changes in weight
Chest pain
Rectal bleeding
Constipation
Diarrhea
Indigestion
Nausea/vomiting
Video Capsule Endoscopy (VCE)
To determine the cause for recurrent or persistent symptoms such as abdominal pain, diarrhea, bleeding or anemia, our doctors may recommend a Video Capsule Endoscopy, especially if a gastroscopy and a colonoscopy have already been performed without revealing a specific diagnosis.
VCE can help to evaluate the extent to which your small intestine is involved or monitor the effect of a treatment given.
Video capsule endoscopy or VCE was first introduced in the year 2001 as a tool to visualize the gastrointestinal tract for a better diagnosis. VCE offers a radiation-free, non-invasive and well-tolerated way to visualize and inspect our gastrointestinal tract especially the small intestine. VCE consists of a wireless video capsule with one or multiple cameras connected to a light source, lens, batteries and a video chip through an electronic circuit in order to capture and transmit images.
VCE is useful in obtaining motility data such as gastric or small bowel passage time and aids in diagnosing dis-eases.
The primary benefits of VCE include:
Extensive visual examination of small intestine to find source of concern
The non-invasive nature of the method makes it painless and convenient
No need for anesthesia or other sedation
It does not require any special preparation except for 12-hour fasting
Our Centre aims to ensure that your health is restored and maintained through natural treatments that do not cause any post-treatment side effects that usually follow in a conventional treatment.
Holistic Healing programs are designed to help you maintain a Healthy Body and Mind that allow you to reach your full potential.